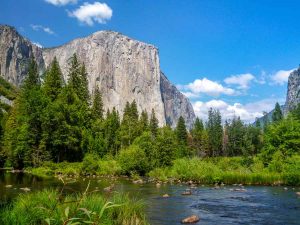 The United States National Park Service (NPS) is currently enmired in a dispute with one of its former contractors over contracts relating to Yosemite National Park.  In early 2016, NPS selected a new company to manage several hotels and sites in Yosemite National Park.  The outgoing contractor, Delaware North, asked NPS and the new contractor to purchase its trademark rights and other intangible assets for about five million dollars.  Delaware North sued NPS in the U.S. Court of Federal Claims to collect this payment, and NPS responded by filing a cancellation proceeding with the U.S. Trademark Trial and Appeal Board (TTAB).
To the surprise of many, the disputed marks include the name Yosemite National Park, in addition to the names of several establishments and landmarks: The Ahwahnee Hotel, Curry Village, Wawona Hotel, and Badger Pass ski area.  These marks are registered for various forms of branded merchandise or for hotel and restaurant services.  At first blush, NPS would seem to have a strong case against Delaware North because these marks plainly recite the names of specific places and landmarks.  The Lanham Act generally prevents a mark from being registered when the mark is "merely descriptive" or "primarily geographically descriptive."  15 U.S.C. § 1042(e).  In the case of these marks relating to Yosemite National Park, these various registrations appear to be geographically descriptive by sharing their names with their respective landmarks or locations within the park.
However, the Lanham Act provides additional protection to marks which have become incontestable as a result of being in continuous use for five years.  15 U.S.C. § 1065.  So long as a mark meets these requirements under the Lanham Act, a registrant can attain the benefits of incontestability by filing a "Combined Declaration of Use and Incontestability" with the U.S. Patent and Trademark Office (USPTO) after the five year period elapses.  Incontestability provides a large number of defenses against third parties seeking to invalidate a mark.  For example, an opposing party cannot cancel an incontestable mark by alleging that the mark is descriptive after the mark has become incontestable.  Park 'N Fly, Inc. v. Dollar Park and Fly, Inc., 469 U.S. 189 (1985); see 15 U.S.C. § 1064.
Delaware North registered the marks at issue between the years of 1988 and 2009, and contends that NPS expressly or implicitly authorized Delaware North to register these marks under its concessions contract.  As a result of Delaware North's use of each mark for over five years, NPS cannot cancel these marks by arguing that they are geographically descriptive of their respective goods or services.  Instead, NPS has argued in its Cancellation Petition that these marks should be canceled or transferred to the federal government based on three other theories: false association with NPS, abandonment of the marks, and dilution.  NPS could also have argued that Delaware North registered these marks by committing fraud against the USPTO.  15 U.S.C. § 1064.  For reasons that are not apparent from the current record, NPS did not plead fraud by Delaware North in its Petition.  Regardless of whether these other theories succeed, it is clear that NPS would have had a stronger case against Delaware North if it did not allow its licensee to obtain an incontestable registration for the marks at issue.  Regardless of whether NPS succeeds in its petition to cancel their marks, this situation provides a clear example of how incontestability may change the balance of power in a dispute.  Incontestability provides a strong protection to a trademark registrants, while increasing the time and costs of any opposing parties.
**NPS's Consolidated Petition to Cancel is available online at: http://ttabvue.uspto.gov/ttabvue/v?pno=92063225&pty=CAN&eno=1
This article has been prepared for general information purposes only, to permit you to learn more about our firm, our services and the experience of our attorneys.  The information presented is not legal advice, is not to be acted on as such, may not be current, and is subject to change without notice.