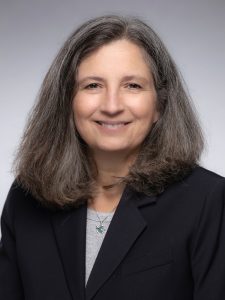 540 Broadway
Albany, NY 12207
Tel: 518-449-0044
Fax: 518-449-0047
Bar Admissions
State of Maryland
State of California
State of Alabama
United States Patent & Trademark Office
Education
University of Alabama, J.D.
Georgetown University, B.S.
Pamela M. Riley
Counsel
Pam Riley is a registered patent attorney with close to 20 years experience preparing and prosecuting patent applications, primarily in the area of semiconductor device structures and manufacturing methods. In addition to working with companies and inventors in the semiconductor industry, Pam's practice extends to a variety of other technology areas including, but not limited to, integrated circuits, photonic integrated circuits, volatile and non-volatile memory technologies, cognitive computing systems utilizing neural networks for machine learning (ML) and artificial intelligence (AI), communication devices and systems, image processing devices and systems, document processing devices and systems, point-of-sale processing technologies, and automotive technologies.
Prior to joining Hoffman Warnick, Pam was a partner at a boutique IP firm in Annapolis, MD. Over the course of 18 years, she prepared and prosecuted hundreds of patent applications for several global technology companies. She also worked closely, effectively, and efficiently with in-house counsel, other outside counsel, and with inventors located both within the U.S. and abroad.
Earlier in her career, Pam had the opportunity to work as an Attorney-Advisor for the Office of Research Integrity of the U.S. Department of Health and Human Services in Rockville, MD. She also served on active duty in the U.S. Navy for 5 years as a member of the U.S. Navy's Judge Advocate General's Corps, where her assignments ranged from Defense Counsel and Senior Trial Counsel to Command Judge Advocate for Naval Air Station Lemoore in CA.