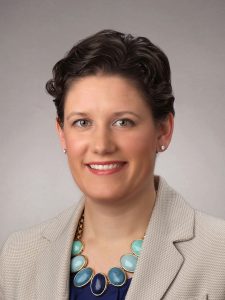 540 Broadway
Albany, NY 12207
Tel: 518-449-0044
Fax: 518-449-0047
---
Bar Admissions
U.S. Patent & Trademark Office
State of New York
---
Education
Albany Law School, JD, concentration in Intellectual Property
Cornell University, BS, Biological Sciences
Jayme Majek Torelli
Member
Jayme M. Torelli's practice focuses on preparing and prosecuting US and international patent and trademark applications, and providing intellectual property strategy and enforcement advice.
Jayme has prosecuted hundreds of patent applications to issuance. She primarily assists clients in the pharmaceutical, biotechnology, and medical device industries. She also has experience drafting and prosecuting patent applications relating to lab instruments and equipment, power generation, consumer products, and semiconductor processing. In addition to assisting domestic clients, she works closely with foreign law firms to represent their clients' patent and trademark interests in the US.
Jayme also helps clients build and enforce international trademark portfolios, and advises on trademark usage. Her clients' brands can be found in diverse industries including pharmaceuticals, computer software, sportswear, food and beverages, professional services, and financial services, among others.
Jayme also regularly provides opinions as to patentability, freedom to operate, invalidity, non-infringement, and trademark clearance and registerability.
In addition to her work, Jayme volunteers her time with STEM events in the Albany area, including RPI's "Design Your Future Day" and the Capital District Invention Convention.
Prior to joining Hoffman Warnick in 2006, Jayme completed law internships with the intellectual property counsel at Intermagnetics General Corporation in Latham, New York, and the Saratoga County District Attorney's Office. In addition, she served on the editorial board of the Albany Law Journal of Science and Technology as Managing Editor for Lead Articles.
 Representative Experience
US 8,586,610, Methods for the Administration of Iloperidone.  The Orange Book-listed '610 patent was found valid and infringed (Vanda Pharmaceuticals Inc. v. Roxane Labs. Inc., 203 F.Supp.3d 412 (D. Del. 2016), affirmed, 887 F. 3d 1117 (Fed. Cir. 2018), cert. denied, 589 U.S. ___ (U.S. Jan. 13, 2020) (No. 18-817)).  The Federal Circuit's decision informs the June 7, 2018 USPTO memorandum on subject matter eligibility.
US 9,138,432, Methods for the Administration of Iloperidone.  The Orange Book-listed '432 patent was the subject of a petition for institution of inter partes review filed by a generic manufacturer.  The petition was denied by the PTAB.
Awards

First Prize, Hon. William C. Conner Intellectual Property Writing Competition (2007), New York Intellectual Property Law Association
Professional Memberships

American Intellectual Property Law Association
New York State Bar Association, Intellectual Property Law Section