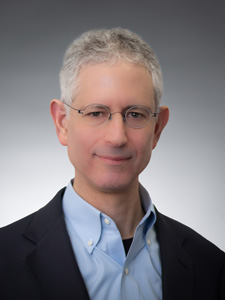 540 Broadway
Albany, NY 12207
Tel: 518-449-0044
Fax: 518-449-0047
---
Bar Admissions
State of New York
United States Patent & Trademark Office
---
Education
Benjamin N. Cardozo School of Law, J.D.
State University of New York at Stony Brook, Ph.D., Molecular Biology and Biochemistry
State University of New York at Stony Brook, M.S., Chemistry
State University of New York at Oneonta, B.S., Chemistry
Franklin S. Abrams
Special Counsel
Franklin Abrams is a patent attorney with over 20 years of experience who practices all aspects of patent law with an emphasis on work in the technical areas of pharmaceuticals, biotechnology, medical devices, and the chemical arts. He has extensive experience preparing and prosecuting patent applications and drafting opinions concerning patentability, validity, non-infringement, enforceability, and Hatch-Waxman Paragraph IV certifications.
Franklin develops and manages domestic and international intellectual property portfolios for his clients, providing them with effective patent prosecution strategies, and counseling them on all areas of intellectual property law. He also provides freedom-to-operate analysis, drafts agreements relating to intellectual property and technology, and conducts due diligence investigations often involving evaluating patent portfolios and technology for business transactions such as investments and acquisitions.
His broad scientific training enables him to work with a wide range of technologies in his patent practice includes biotechnology, pharmaceuticals (small molecules and formulations), synthetic biology, biomaterials, biologicals, protein structures, antibodies, agricultural sciences, medical devices, life sciences, and the chemical arts including industrial chemistry.
Franklin's professional experience, in addition to working at law firms, includes working as in-house intellectual property counsel for a start-up technology company and as foreign intellectual property counsel at a leading intellectual property law firm in Beijing. Franklin draws on his broad patent practice, professional, and technology experiences to work effectively with corporate management, in-house counsel, scientists, and engineers. By immersing himself in his clients' technology and business goals, as well as their competitive landscape, Franklin helps them achieve the best ROI from their intellectual property.
Speaking Engagements
Biotech Without Borders, Brooklyn, NY, "Patenting Biotechnology: CRISPR and Protein Based Biomaterials" 2019
New Jersey Packaging Executives Club's Innovation Event, West Orange, NJ, "Protecting Innovation from the Beginning" 2019
Southern University of Science and Technology and Shenzhen Association for the Promotion of Enterprise Scientific and Technological Innovation, Shenzhen, China, "Establishing a Strong Intellectual Property Position for Obtaining Investment and Achieving Market Success" 2018
Stage2Startups, New York, NY, Panelist, "Protecting Your Intellectual Property – for Branding & Product Development" 2018
Biofabricate 2016, New York, NY, "What Rights to our Genetic Information?" 2016
Genspace, Brooklyn, NY, "Intellectual Property, Synthetic Biology, and Creativity" 2016
SUNY Stony Brook, Stony Brook, NY, "Introduction to Intellectual Property Law and Patenting in Biotechnology" 2015
Union College, Schenectady, NY, "Introduction to Intellectual Property Law" 2015
Genspace, Brooklyn, NY, "Introduction to Intellectual Property Law and Patenting in Biotechnology" 2015
World Research Group: 5th Annual Corporate Intellectual Property Counsel Forum, New York, NY; Panelist, "Patent Eligibility 101: Latest Updates on the Patentable Subject Matter Debate" 2013
World Research Group: 4th Annual Corporate Intellectual Property Counsel Forum, New York, NY; "Prosecution Strategy in View of Changes to Section 102: First Inventor to File and Prior Art" 2012
New York Biotechnology Association, Annual Meeting, New York, NY; "U.S. Biotechnology Companies in China: Protecting Their IP" 2010
LES/Tech Valley Fall Workshop Series, Albany Law School, Albany, NY; "Technology Based Companies Doing Business in China: Protecting and Developing Their Intellectual Property" 2009
MedTech Conference, Rochester, NY; Panelist, "Voices from the Middle Kingdom: IP Opportunities and Challenges in China" 2009
Asia Business Forum, China Pharmaceuticals Conference, Beijing, China; "Export and Maintenance of Ownership of Inventions Made in China" 2006
American Intellectual Property Law Association, Annual Meeting, Washington, D.C.; "Metabolite Labs, Inc. v. Lab.Corp of Am. Holdings, 370 F.3d 1354; 71 U.S.P.Q.2D 1081 (Fed.Cir 2004): Patentability of Diagnostic Methods" 2005
American Intellectual Property Law Association, Annual Meeting, Washington, D.C.; "Introduction to Chinese Patent Law" 2005
Presentation to the Reexamination Board of the State Intellectual Property Office of the P.R. of China, Beijing, China; "Invalidation of Patents in the United States" 2005
Publications
Abrams, F.S., and London, E. (1993) "Extension of the Parallax Analysis of Membrane Penetration Depth to the Polar Region of Model Membranes: Use of Fluorescence Quenching by a Spin-Label Attached to the Phospholipid Polar Headgroup" Biochemistry, 32, 10826-10831
Abrams, F.S., Chattopadhyay, A., and London, E. (1992) "Determination of the Location of Fluorescent Probes Attached to Fatty Acids Using Parallax Analysis of Fluorescence Quenching: Effect of Carboxyl Ionization State and Environment on Depth" Biochemistry, 31, 5322-5327
Abrams, F.S., and London, E. (1992) "Calibration of the Parallax Fluorescence Quenching Method for Determination of Membrane Penetration Depth: Refinement and Comparison of Quenching by Spin-Labeled and Brominated Lipids" Biochemistry, 31, 5312-5322
Abrams, F., and London, E. (1991) "Membrane penetration depth of fluorescent molecules by the use of spin-labeled phospholipids: calibration of accuracy" J., 59, 629a.
Jiang, J.X., Abrams, F.S., and London, E. (1991) "Folding changes in membrane inserted diphtheria toxin that may play important roles in its translocation" Biochemistry, 30, 3857-3864
Professional Memberships
American Intellectual Property Law Association (AIPLA)
American Association for the Advancement of Science (AAAS)