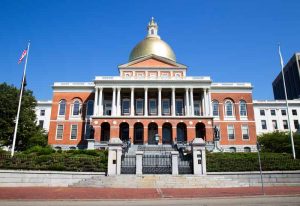 The proliferation of lawsuits brought by Non-Practicing Entities (NPEs), also referred to as "patent trolls," has led to backlash in boardrooms and state houses throughout the country.  Now, Massachusetts is making its own efforts to fight NPEs by introducing Senate Bill S.178, An Act Protecting Massachusetts Businesses from Abusive Patent Infringement Claims.
As the Mass Tech Advocate (publication of the Massachusetts Technology Leadership Council, MassTLC) recently reported, between 2011-2013, the number of lawsuits brought by NPEs tripled, and accounted for 88% of patent cases targeting technology companies.  Further, 82% of NPE cases are against companies with under $100M in revenue.  These companies are commonly seen as soft targets, having sufficient revenue to provide settlements, but without the deep pockets to wage a lengthy legal battle over a patent dispute.
This Bill aims to provide relief for companies or individuals receiving demand letters from NPEs that assert weak or baseless claims of patent infringement.  The Bill requires that the party sending a demand letter identify the real party in interest, conduct an analysis of the asserted claims as they relate to the alleged infringer's products, and if a license agreement is proposed, that the proposal be based upon a reasonable estimate of the patent's value.  In some cases, the Bill allows relief for the party receiving a demand letter in the nature of:
(i) equitable relief;
(ii) damages;
(iii) costs and fees, including reasonable attorney's fees; and
(iv) exemplary damages in an amount equal to $50,000.00 or three times the total of damages, costs, and fees, whichever is greater.
If passed, this legislation would provide the alleged infringer with a right to counter-sue the NPE and claim damages.  The text of Senate Bill S.178 is available here: https://malegislature.gov/Bills/189/Senate/S178