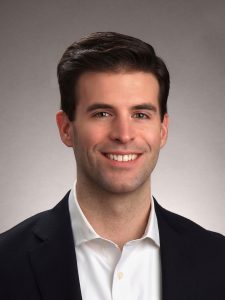 V-Card: Matthew B Pinckney
540 Broadway
Albany, NY 12207
Tel: 518-449-0044
Fax: 518-449-0047
---
Bar Admissions
State of New York
United States Patent and Trademark Office
---
Education
University of New Hampshire School of Law (formerly Franklin Pierce Law Center), J.D.

Senior Editor, IDEA: The Intellectual Property Law Review

The Catholic University of America, B.S., Mechanical Engineering

Tau Beta Pi (The Engineering National Honor Society)
Matthew B. Pinckney
Member
Matthew Pinckney's practice includes a wide array of intellectual property services, including preparing and prosecuting patent applications, obtaining protection of trademarks and copyrights, negotiating agreements involving intellectual property holdings, and providing opinions regarding intellectual property infringement, patentability and validity of intellectual property holdings.
Matt has prepared and prosecuted hundreds of patent applications for clients in technical fields such as integrated circuit design, testing and fabrication; power system components and related control systems; heating and cooling systems; audio systems; medical devices; medical testing equipment; nuclear magnetic resonance (NMR) imaging and related data analysis; electrical and utility network design; and software. Matt believes that establishing and maintaining a dialogue with the US Patent and Trademark Office (USPTO) is a healthy and effective way to advance his clients' interests, and conducts numerous interviews with patent examiners each month.
Matt obtains protection for the trademarks and copyrights of many clients, and also counsels clients in strategic development of their brands. He also successfully negotiates intellectual property agreements on behalf of his clients, and aids start-ups in obtaining and commercializing their intellectual property holdings.
Representative Experience:
Prepared and prosecuted hundreds of US patent applications for individual inventors, small to mid-sized companies, and Fortune 100 companies.
Advises US companies with significant sales in international markets about filing strategies and cost-saving mechanisms for seeking protection of their intellectual property overseas.
Aids affiliates from outside of the US in filing patent applications before the USPTO, and finds creative strategies for managing their clients' budgets when seeking international patent protection.
Helps companies coordinate large groups of patent filings for product launches in a timely and cost-effective manner.
Publications

Characterizing Prior Art to Limit the Broadcast 'Reasonable' Claim Interpretation – In Re Abbott Diabetes Care Inc., Boston Patent Law Association Quarterly Newsletter
Pre-Issuance Submissions to the US Patent and Trademark Office – Details, Guidelines and Strategies for Challenging Patent Applications Under the New Provisions of the AlA, Boston Patent Law Association Quarterly Newsletter
The SHIELD Act Takes Aim at Non-Practicing Entities, Boston Patent Law Association Quarterly Newsletter
IP Portfolio Strategy in a Post-Grant Review World, Albany County Bar Association Newsletter
Expanding Access to the US Patent and Trademark Office, Albany County Bar Association Newsletter
US Patent Office Initiates New Pilot Program to Streamline Examination, Albany County Bar Association Newsletter
Growing Legal Concerns in Mobile Application (App) Technology, Albany County Bar Association Newsletter
Patents Ruling a Glimmer of Economic Hope, Times Union
Professional Memberships

New York State Bar Association
American Intellectual Property Law Association
Boston Patent Law Association