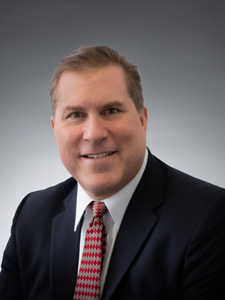 540 Broadway
Albany, NY 12207
Tel: 518-449-0044
Fax: 518-449-0047
---
Bar Admissions
United States Patent & Trademark Office
Commonwealth of Virginia
United States District Court for the Eastern District of Virginia
---
Education
George Mason University School of Law, J.D., concentration in Patent Studies
Rensselaer Polytechnic Institute, B.S. Materials Engineering, concentration in Ceramics and Metallurgy
Ernest G. Cusick
Counsel
Ernest "Buddy" Cusick is a deeply accomplished intellectual property lawyer and businessman with 35+ years of practical, hands-on patent experience. Buddy provides clients with a high level of sophistication and expertise. He skillfully combines a background as a materials engineer with his dynamic knowledge in intellectual property law to guide businesses, inventors, scientists and engineers through obtaining and protecting patents. Buddy's well-rounded perspective stems from his impressive career path as in-house IP counsel, a manager of General Electric's global patent operations, a patent examiner, as well as in private legal practice. Buddy is knowledgeable across multiple disciplines, including mechanical engineering, material sciences, electro-mechanics, chemistry and biology. A skilled communicator, Buddy is gifted at translating complex ideas into patentable outcomes.
Prior to joining Hoffman Warnick in 2019, Buddy spent 20+ years as part of the in-house patent counsel team for General Electric Company, as business and intellectual property counsel for GE Power. Most recently, Buddy served as the Manager of the U.S. Global Patent Operations group (GPO), which provided critical Intellectual Property support to GE's global research center, and healthcare, life sciences, lighting, digital, electronics, aviation, and power generation divisions.  A leader in his field, Buddy has a strong understanding of not only the laws behind obtaining and defending patents, but also the dynamics of corporate business structures.
Buddy's experience also includes working for the United States Patent and Trademark Office as a Petitions Examiner and Primary Patent Examiner. In these roles, Buddy honed his ability to negotiate with attorneys and identify the critical aspects that lead to successful patents. While at the U.S.P.T.O., Buddy served in the Office of the Commissioner working on petitions. In this role, he was charged with resolving unique problems that required out-of-the-box thinking to address and fix problematic scenarios. This experience is invaluable to his current work, as he has a comprehensive understanding on how to advise clients to avoid these difficult situations, saving resources and time over the course of business every time.
Buddy's prior private legal practice provided the bridge between intellectual property and business law. As a lawyer in a boutique firm, he handled corporate law matters, drafting and negotiating IP-related agreements and deal documents for various complex transactions.
Professional Memberships
American Intellectual Property Law Association
Intellectual Property Owners Association
Virginia Bar Association