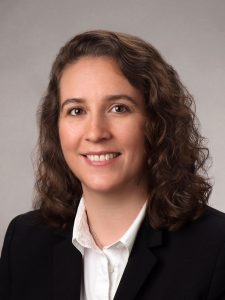 JUSTINE M. WILBUR
In memoriam

Justine was a talented attorney who joined our team as a Senior Associate in 2017 after having built a reputation both domestically and internationally as a patent expert.  Her work was both meaningful and challenging, encompassing topics ranging from cancer treatment and nanotechnology to advanced materials.
Justine was smart, knowledgeable, dedicated, and hardworking.  Clients and colleagues alike respected her legal and scientific expertise, and her client advocacy skills as a patent practitioner.  She held a BS in chemistry from Boston College; an MS in chemistry, summa cum laude, from the University of Massachusetts, Lowell; and a JD from Suffolk University Law School.
Justine passed away unexpectedly at home on March 12, 2019.
Each of us acutely feels her absence, but we are grateful for having shared Justine's infectious spirit and energy.  We remember her as a respected and valued team member, a true friend to everyone in our firm, and a devoted mother to her children.